Our mission is to improve the planet by helping as many people possible reach their individual potential through better health and wellbeing. Healthier, happier people carry an energy that ripples out amongst humanity. We look out for each other, encourage, and empower one another to tap into our full potential.
The Whole Health Wellness vision is one of bringing our individual talents and passions together to make an even greater impact. By partnering with our amazing network of wellness providers and bringing our services to you, we're able to ensure that ripple is a limitless force for good. As the saying goes, "a rising tide lifts all boats".
Certified Worksite Wellness Specialist and Founder of Whole Health Wellness, Jessalynn Hudgins, has over 20 years of business experience in financial services, including consumer banking, commercial banking, boutique investments, and private equity. Being in an industry known for its work-hard/play-hard mentality, she began to realize the unfulfilling toll it was taking on her physical and mental health. In an effort to return to a healthier lifestyle and more mindful awareness, she decided to pursue one of her bucket list dreams and completed her Certified Yoga Teacher training in Bali. Her personal practice and study of yoga, mindfulness, and meditation span over 15 years, and has had a profoundly positive impact on her own quality of life. Jessalynn's desire to share the benefits of what she's learned along her own journey, led her to merge her business background and passion for wellness to help as many people as possible where they spend the majority of their time – at work.
A Note From Our Founder...
Just a few short years ago, not many would have imagined that the way we live, work and play would come to a halt and be so drastically impacted. We can't deny the emotional toll it has taken on us personally, or as a society. While much of the world has seemingly rebounded, most of us have figured out what works – such as flexible, remote workdays, and more importantly, what doesn't work – a lack of work/life balance, feeling disconnected, and not enough emphasis on one's overall wellbeing.
Most of us want to be the best version of ourselves, but how can we tout family values, while spending ten hour days at the office? Or, health and wellness as a top priority, while staying sedentary and making food choices out of convenience? How can one remain present for their family and practice gratitude for what they have when they're dealing with anxiety, and the stress of finances, or making ends meet? Despite all of this, I have witnessed a lot of good in the world – neighbors looking out for each other, communities rallying to support their local, small businesses, and realizing the massive importance of connection in insolation. I started this company at a time when others were shutting their doors because I believe in the power of people and that our differences are what make us special and unique.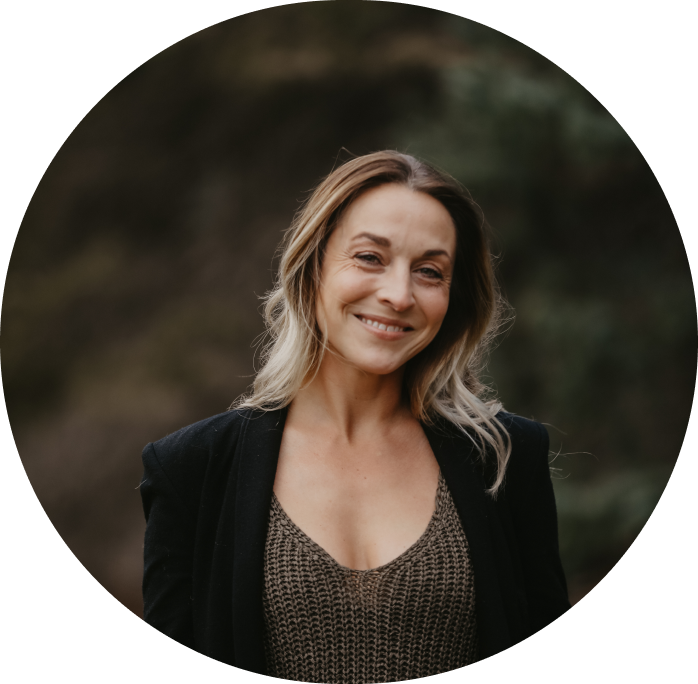 One other thing has become clear: the ever-increasing trend toward improved health and wellbeing is being taken more seriously now than ever before, and that trend is only on the rise. By empowering one another to live healthier, more fulfilling lives, we are helping all of humanity tap into its highest potential, creating space for each individual to be their best self, and playing our own part as that positive ripple in the sea of life.
In Health, Wealth & Happiness,

"The Whole Health Wellness team's professionalism and dedication were evident throughout our engagement. They meticulously integrated their services into our daily operations, creating a seamless experience for our employees. The range of wellness initiatives they offered was remarkable, including fitness programs, nutrition workshops, mental health support, and stress management techniques."
"From the very beginning, Whole Health Wellness demonstrated a profound understanding of our company's needs and objectives. They meticulously designed a comprehensive employee wellness program tailored to our unique requirements. Their expertise in promoting employee well-being and enhancing overall workplace satisfaction is truly commendable."
"I cannot express enough my utmost satisfaction and gratitude for the exceptional services provided by Whole Health Wellness. As an employer striving to create a positive and healthy work environment, partnering with them has been an invaluable decision for our organization."
"I wholeheartedly recommend Whole Health Wellness to any organization seeking to prioritize the well-being of their employees. Their expertise, personalized approach, and comprehensive wellness programs have made a significant difference in our workplace. Thanks to Jess and her team, our employees are healthier, happier, and more motivated than ever before."
"Thank you, Whole Health Wellness, for your unwavering commitment to the wellbeing of our workforce. You have become an invaluable partner in our journey towards creating an environment where everybody can thrive. You have truly helped us cultivate a more caring culture." 
"A major aspect that sets Whole Health Wellness apart is their commitment to ongoing support. Their dedicated team consistently followed up with us to assess the program's effectiveness and make necessary adjustments to ensure maximum impact. Their responsiveness and willingness to adapt to our evolving needs were truly impressive."
"Jess and her team went above and beyond in fostering a sense of community within our organization. They organized team-building activities and group challenges that not only encouraged camaraderie but also motivated our employees to embrace healthier habits together. These initiatives not only boosted morale but also contributed to increased productivity and a stronger sense of unity within our teams."
"Whole Health Wellness' proactive approach in assessing our employees' needs and preferences ensured that each program was engaging and impactful. The well-structured workshops and seminars conducted by their knowledgeable experts captivated our employees and provided them with invaluable insights into maintaining a healthy lifestyle. The positive feedback we received from our staff was overwhelming, with many expressing gratitude for the positive changes they experienced both personally and professionally."
"The Whole Health Wellness team's professionalism and dedication were evident throughout our engagement. They meticulously integrated their services into our daily operations, creating a seamless experience for our employees. The range of wellness initiatives they offered was remarkable, including fitness programs, nutrition workshops, mental health support, and stress management techniques."
"From the very beginning, Whole Health Wellness demonstrated a profound understanding of our company's needs and objectives. They meticulously designed a comprehensive employee wellness program tailored to our unique requirements. Their expertise in promoting employee well-being and enhancing overall workplace satisfaction is truly commendable."
"I cannot express enough my utmost satisfaction and gratitude for the exceptional services provided by Whole Health Wellness. As an employer striving to create a positive and healthy work environment, partnering with them has been an invaluable decision for our organization."
"I wholeheartedly recommend Whole Health Wellness to any organization seeking to prioritize the well-being of their employees. Their expertise, personalized approach, and comprehensive wellness programs have made a significant difference in our workplace. Thanks to Jess and her team, our employees are healthier, happier, and more motivated than ever before."
"Thank you, Whole Health Wellness, for your unwavering commitment to the wellbeing of our workforce. You have become an invaluable partner in our journey towards creating an environment where everybody can thrive. You have truly helped us cultivate a more caring culture."
"A major aspect that sets Whole Health Wellness apart is their commitment to ongoing support. Their dedicated team consistently followed up with us to assess the program's effectiveness and make necessary adjustments to ensure maximum impact. Their responsiveness and willingness to adapt to our evolving needs were truly impressive."